Well, I don't know if you have been flooded from images capturing the pop star's latest fall 2018 lingerie collection, but I must admit that for someone without formal fashion experience or expertise, Rihanna sure knows the secret formula for hosting a noteworthy fashion show that will be talked about for months to come! This was one of the only times I've referred to actually watching a live stream of a fashion show, and I'd advise anyone with 18 minutes to spare, to go ahead and treat yourself to watching the delightful show. Filled with such a beautifully diverse group of models, varying shades, varying sizes, and varying statures, *also worth noting, 2 pregnant models (Wow!), this fashion show will forever be legendary, not only because the mogul has made her mark upon the fashion world, but also because Rihanna's inclusion of all/every type of woman, is a precursor to the future of fashion, and how that bright, innovative future will be more concerned with representing real women in society. The show was dripping in Mother Nature epithets and symbolism with the women moving alongside one another in mysterious, interpretative dances as well as the decor that resembled a majestic rainforest with simulated waterfalls, forestry, and models with flora and fauna used as decorative accessories. I can't help but appreciate how Rihanna found a way to celebrate all women while also emphasizing their power. Although it was a lingerie show in a contemporary society that demeans women to being nothing more than sexual objects, I found the show quite uplifting and very empowering. Rihanna gets a gold star!
SheekChic Favorites Below
*all Fenty X Savage Fashion Show Images are by: Bryan Bedder and JP Yim at Getty Images
SheekChic Best in Show Award: Bella Hadid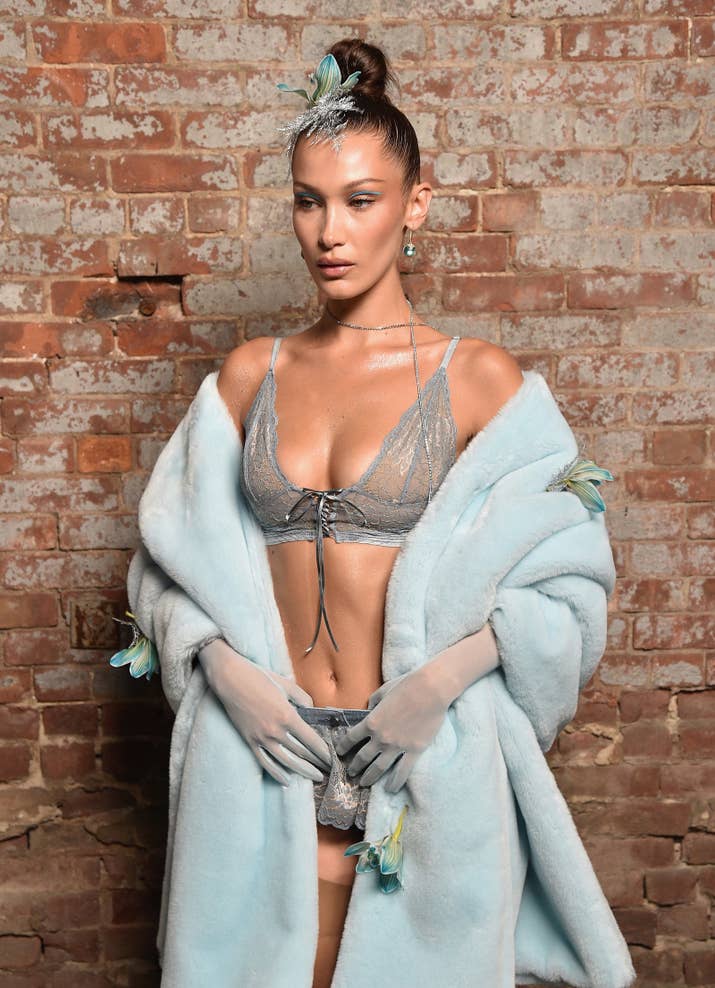 It's something about the blue aura dominating this outfit, seen in her dusty blue bralette (that I want/need/love), her frilly transparent gloves, the placement of blue-green flower motifs (I'm obsessed with) along her body, coupled with the statement piece, a luxurious powder baby blue faux fur coat. This ensemble will make you feel like royalty, without seeming to gaudy or too flashy, very classy and very very elegant, which are not typically associated with women's lingerie. Tom Van Dorpe, the head stylist for the show deserves the utmost recognition for carrying out the theme and Rihanna's vision flawlessly, I loved the theme of vibrant monochromatic color that was prevalent in all of his ensembles. I also appreciate the slicked topknot which adds structure, and the shock of turquoise eyeliner drawn on the very top of her eyelid, which both draw attention to her upper body, the main focus of the look.
*Final Shout out to the makeup artist that expertly applied Bella's illuminated bronzer along her collarbone and the dewy highlight on her forehead, cheekbones, and nose. Perfection!
Noteworthy Highlighters to try for yourself:
$42 MARC JACOBS BEAUTY Glowstick Glistening Illuminator in the shade: Spotlight
$26 Laura Geller Baked Gelato Highlighter in the shade: Ballerina *(a warm rose gold tint)
This highlighter is my absolute favorite because it makes your skin: GLISTEN!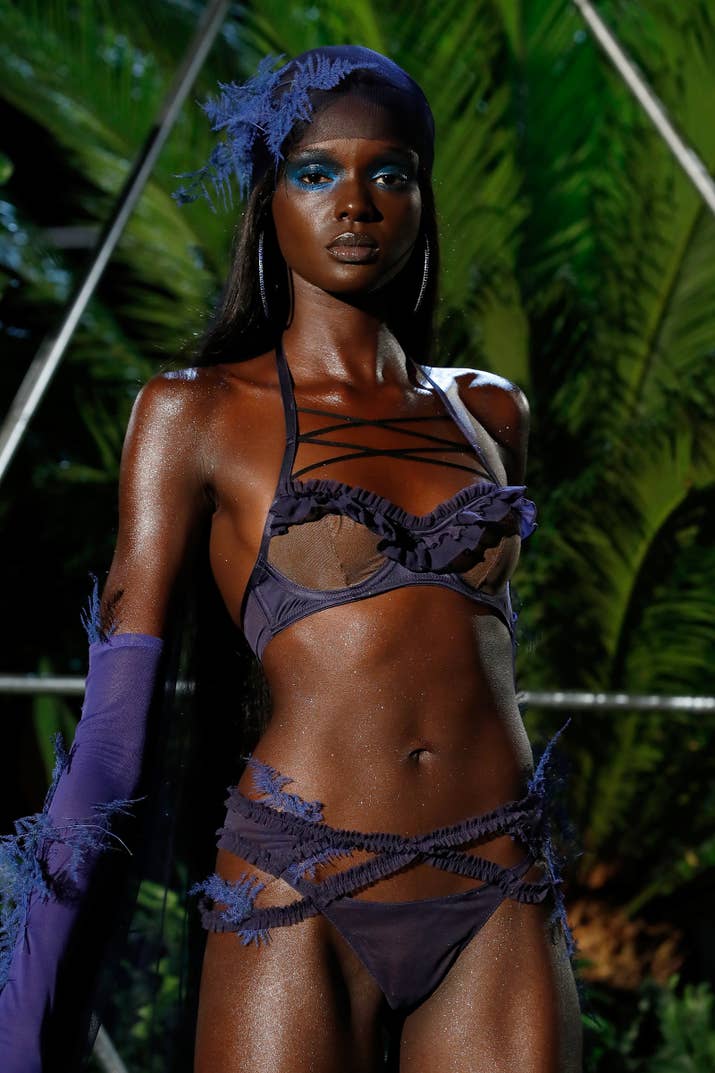 DUCKIE THOT!!! She simply kills it on every runway. every day, in life, in general,etc. Anyways, still keeping with the vibrant blues, I'm obsessed with the midnight blue of this ensemble and how the color just bounces off of her body. Her cool-toned, deep complexion coupled with the intense vibrancy of this ensemble, makes it so much more memorable because together they're so striking. However, I also feel like, despite its intensity, I can visualize people of any/all skin tones wearing this ensemble, without being drowned out. The blue truly brings out the best in every skin tone.
*Second* SheekChic Favorite of the Day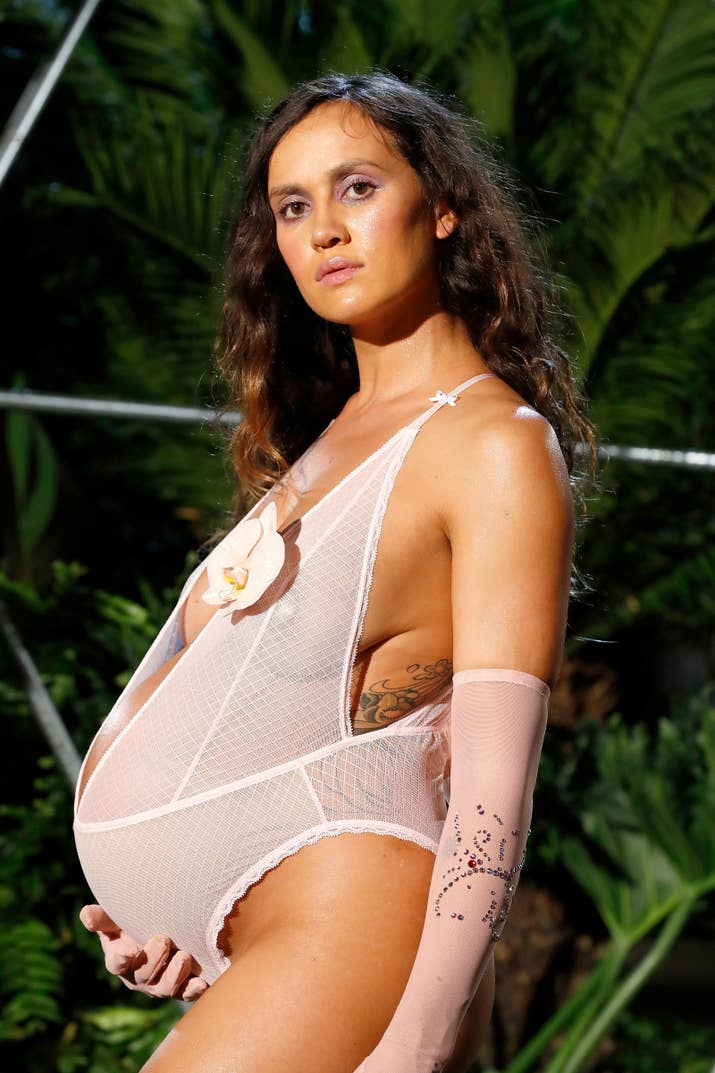 So beautiful! So feminine! So pregnant! This ensemble is very "mother-nature" heavy, filled with very maternal vibes and blush pink accents to represent nurture. I would also love to replicate this makeup look, all you need is: lavender shimmer eyeshadow, rose-colored blush, and a dewy highlighter, and you're good to go!
Lavender eyeshadow:
$20 MAC Extra Dimension eyeshadow in the shade: Ready to Party
Image Source/ ULTA Website Link
Beautiful Mermaid Hair waves:
$28 Bed Head Curlipops Spiral Curling Wand 1″
Image Source/ Target Website Link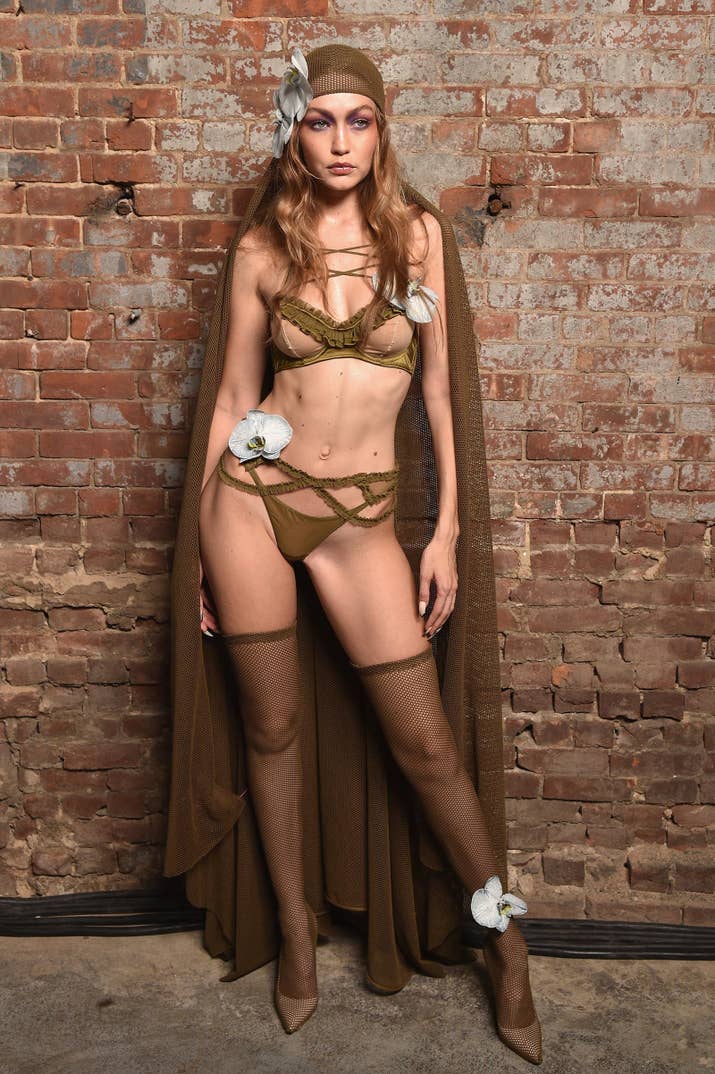 I'm obsessed with the monochromatic earthy tones of this entire look! I also like the use of textured fish netting material on legs, as well as on the headdress (my favorite accessory), to give the outfit dimension. The touch of white flowers scattered across her body, prove to be the perfect accents, adding even more femininity to the ensemble.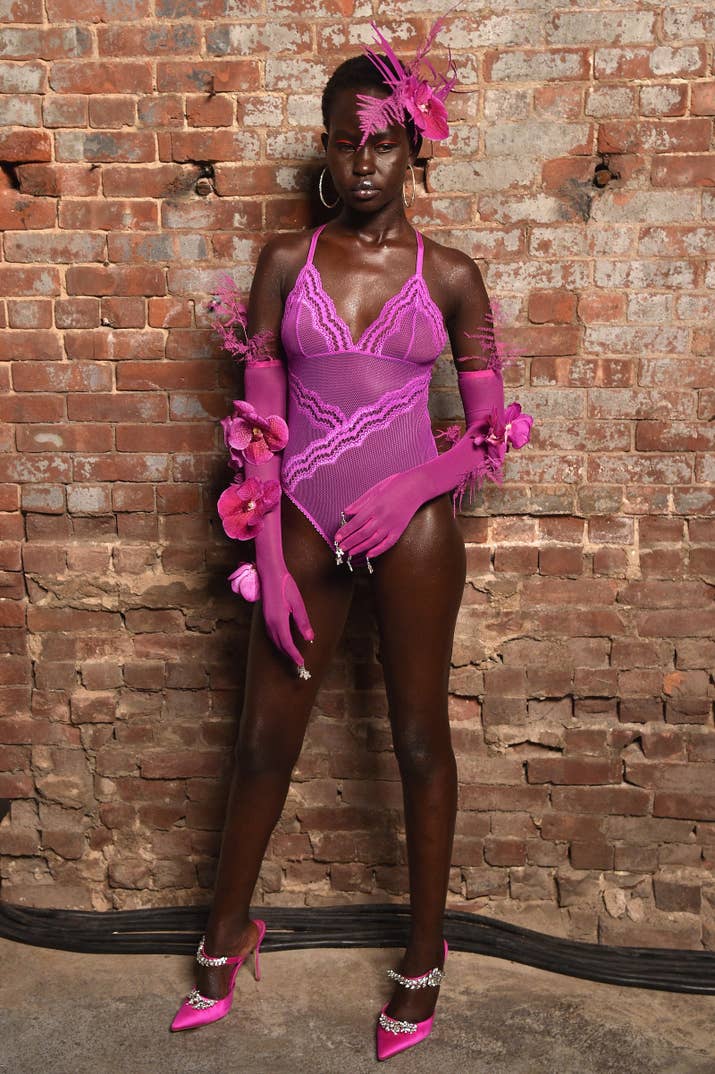 This is such an immense explosion of COLOR!! I've never seen fuchsia used in such a demure way, that doesn't take away from the beauty of the outfit. The huge pink flowers are flawlessly placed along her body, and the shock of pink eyeliner emphasizes the model's striking features. I am obsessed with these strappy heels, and how elegant, yet avant-garde they are. What a statement piece!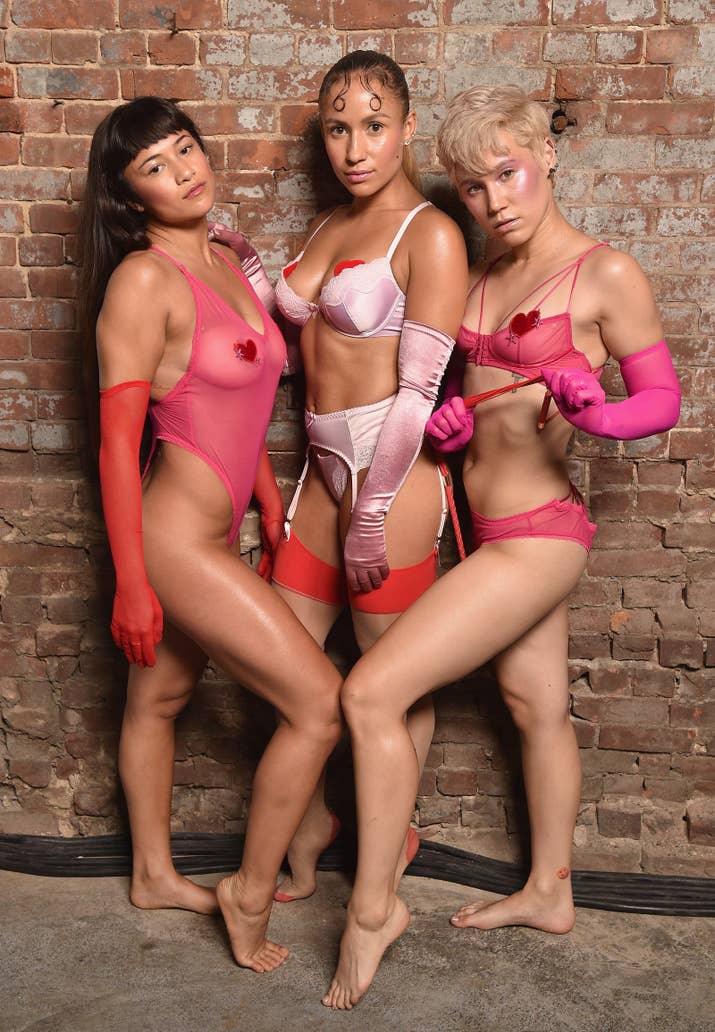 All I can say is "Happy Valentine's Day from the Powerpuff Girls!!!"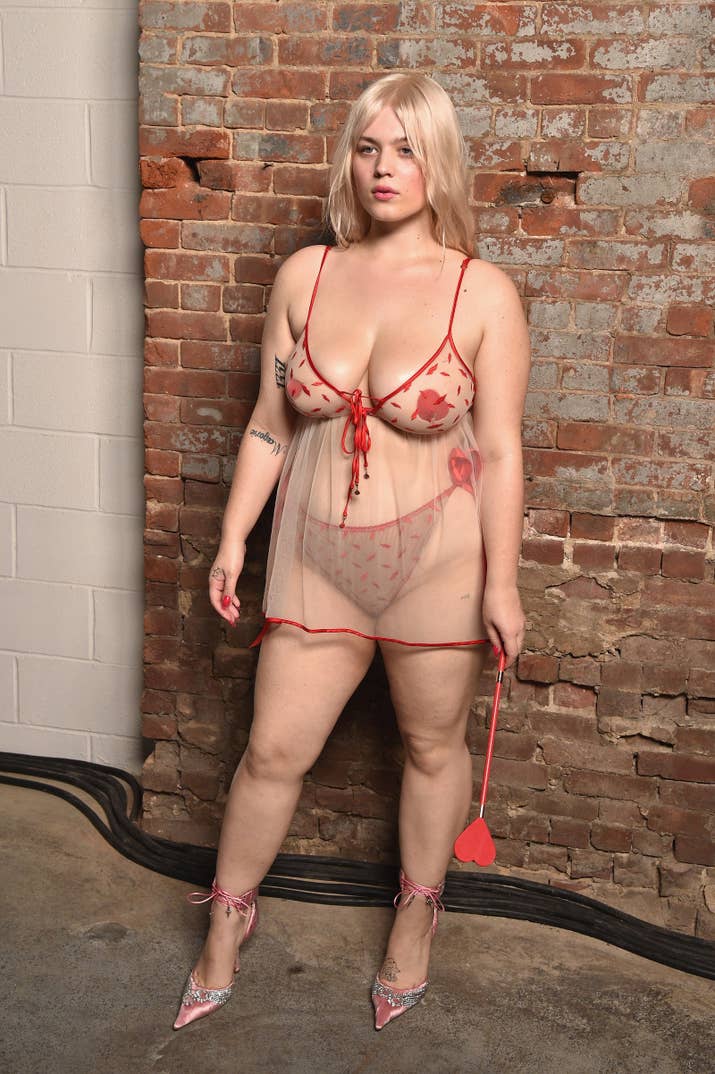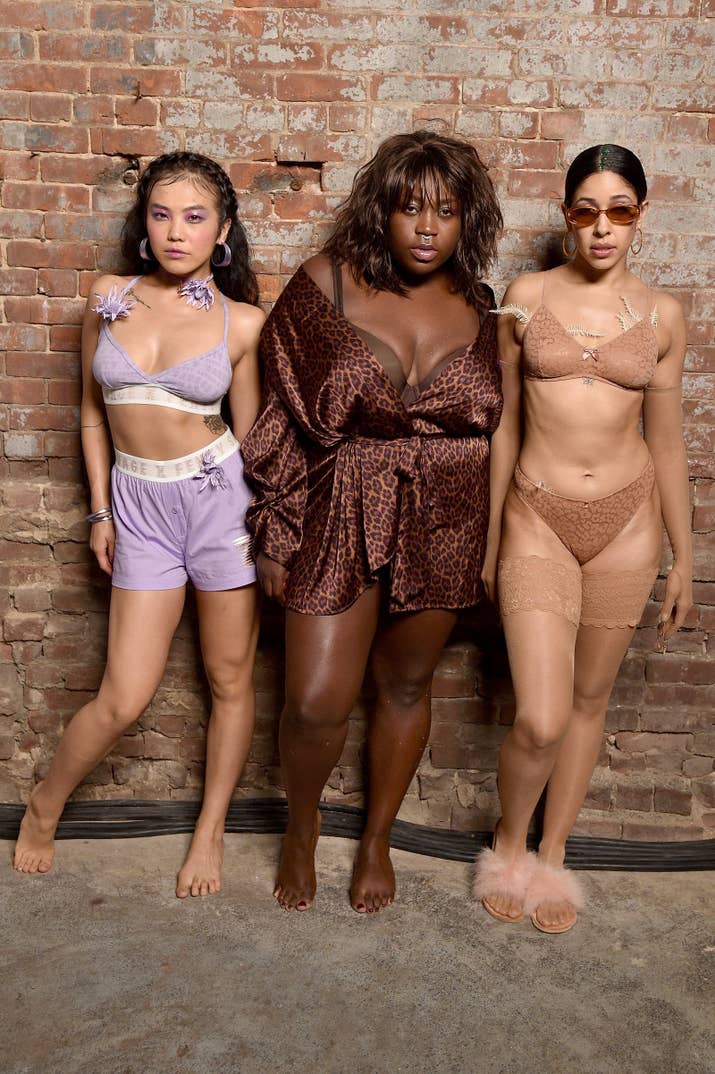 I've already envisioned myself in the lavender purple ensemble, and I'm in heaven.
Hugs and kisses!!!
Question of the Day:
What was your favorite ensemble at the Rihanna Savage X Fenty Fashion Show, and would you wear it or no?