I know I'm not the only one that has noticed the overabundance of ruffles this year ;from streetwear to online clothing stores like Princess Polly and Saboskirt, even to the  fashion runway, ruffled tops and dresses are seemingly here to stay, and I have to say that it has been my favorite trend to emerge this year. I'm usually not the type to dress in frilly, delicate attire, but it's something about the way those ruffles spruce up your outfit, adding a bit of playfulness, yet still remaining demure and quite lovely!  I think having a ruffled ensemble in your closet is an essential piece because they're perfect for day brunch, a light-hearted outing to the park, a downtown stroll, or even (my daydream) dancing in a sunflower field!
Enjoy the ruffled goodness below!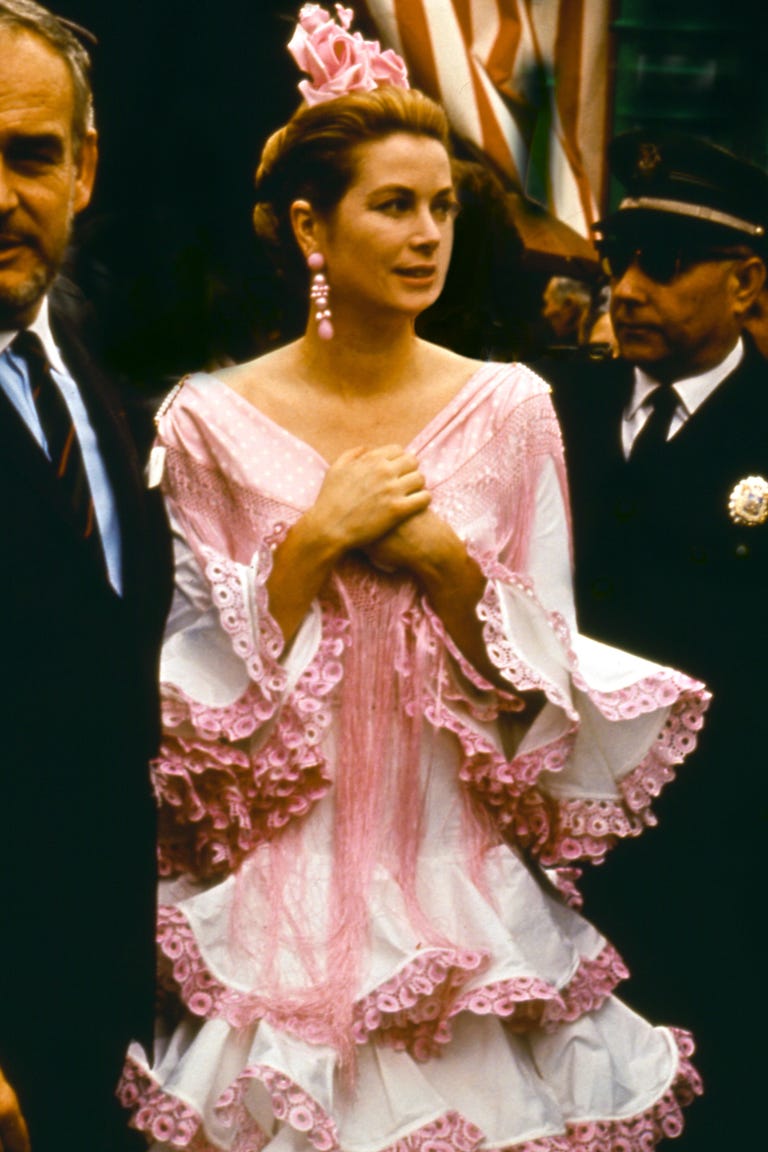 Grace Kelly the epitome of elegance and delicacy, shining in a such a beautiful and refined, ruffled dress. This number definitely has some Latin flavor giving it extra Va Va Voom; the open neckline lets the outfit breathe from the heaps of ruffles Grace is under, and the polka dots along the top are classy, yet whimsical additions. The floral headpiece replicating a pink rose is fit for a princess like Princess Grace Kelly, and my favorite items are, of course, those dangly earrings, clearly a must-have with any princess fit!
Image Source: Getty Images
Kaia Gerber at a spring Chanel 2018 runway
The patterns on these ruffles are to-die-for! I love that Karl Lagerfeld added the black vest to give the outfit some edginess and that smoldering purple smoky eye adds the perfect amount of impact to the floral ensemble, without overpowering it. Again, I completely adore those earrings! *hint hint I have an affinity for earrings if you couldn't tell
Image Source: Getty Images
An oldie but a goodie, how could I not include my favorite style muse on television, Carrie Bradshaw (Sarah Jessica Parker)  from Sex and the City. This is an ensemble I would dream to have in my closet!!
*my second favorite tv style muse is Cheryl Blossom/Madelaine Petsch whom you should definitely check out on Riverdale
$65.18 Liliana Playsuit from Saboskirt
SheekChic Favorite of the Day:
I love the juxtaposition between the doily-like, elegance of the top, and some good-old classic denim, to make this the perfect streetwear ensemble! I'd definitely pair this look with a high ponytail or a very posh bun.
Hugs and Kisses!!
Question of the day: Exactly how many ruffled items do you currently have in your closet?